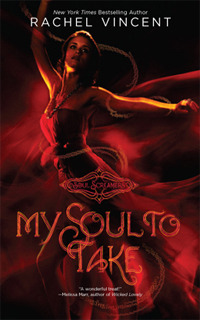 "She doesn't see dead people. She senses when someone near her is about to die. And when that happens, a force beyond her control compels her to scream bloody murder. Literally.
Kaylee just wants to enjoy having caught the attention of the hottest guy in school. But a normal date is hard to come by when Nash seems to know more about her need to scream than she does. And when classmates start dropping dead for no apparent reason, only Kaylee knows who'll be next."
---
To begin with, this book has always been one of my favorites (this is my second time reading it). I love how the author created such an amazing world and created characters that I was able to fall in love with.
Prior to reading this, I hadn't know what bean sidhes, more commonly known as banshees, were. Ms. Vincent does an amazing job at explaining what they are.
I fell in love with Kaylee's character from the beginning. She was funny, but you could still see that she wasn't perfect; she had her flaws just like everyone else. I think the relationship between Kaylee and her best friend Emma is sweet because the two of them are like sisters. Nash Hudson, the most popular guy in school, later becomes Kaylee's boyfriend and Tod Hudson, Nash's brother, is my all time favorite character. His sense of humor just makes the book that much better.
Anywho, a big theme in this book is finding yourself. Kaylee has struggled her whole life to fit in. Being as she is a banshee, every time someone is going to die, Kaylee gets the urge to wail. When Kaylee meets Nash, he explains to her what a bean sidhe is and what she can do. I feel like the relationship between Kaylee and Nash was just a little rushed. She continuously says how she doesn't want to be played by him and won't fall for him, but the next second she trusts him more than her family. Now granted, Kaylee's family did lie to her for her whole life, but I still thought it was weird she listened to a guy she barely knew over her family.
Kaylee is actually a pretty strong character. When she finds out that girls are dying in her town from suspicious deaths, she tries to figure out who, or what, is causing them. I thought that this was really brave of her because she was new to the bean sidhe life and she had no idea what she was getting into.
There's not a whole lot that I can say without spoiling the book, but I do highly recommend this books to people. Overall, the book is just so beautifully written and the world it creates is engaging and unique. I give this book five out five creamers because it was that good!